8 Things I Look Forward To...
#1.) Picking Up Sarah Jane from school
#2.) Paychecks
#3.) Date Nights
#4.) Getting to see my family
#5.) New Shoes
#6.) Halloween
#7.) Trips to the Beach
#8.) Naps

8 Things I Did Yesterday
#1.) Went to the movies (SHOCKER!)
#2.) Had lunch with my sister and brother-in-law
#3.) Bought a Dress
#4.) Took GB to the Doctor
#5.) Drank unsweet tea, bleh.
#6.) Took some pictures of our new FISH, Champ, with my new fisheye lens
#7.) Bought the cutest earrings ever
#8.) Looked up some crazy pictures online of ghetto cars (see below)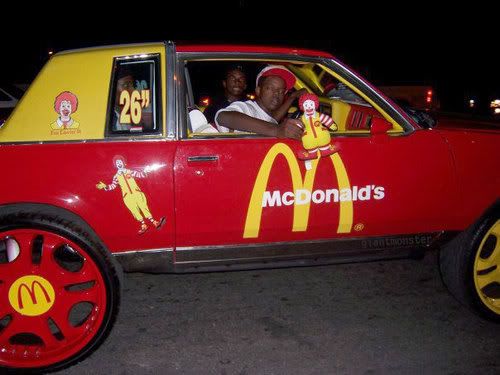 8 Things I Wish I Could Do:
#1.) Make the infamous frog sound that Sarah Jane and George can both make
#2.) Stop biting my fingernails
#3.) Freeze Time
#4.) Win the lottery
#5.) Adopt.
#6.) Take a bubble-bath in peace
#7.) Go to Uganda
#8.) Drink only water
8 Shows I watch:
#1.) American Idol
#2.) Desperate Housewives
#3.) Medium
#4.) Army Wives
#5.) Brothers and Sisters
#6.) Grey's Anatomy
#7.) Law and Order SVU
#8.) One Tree Hill